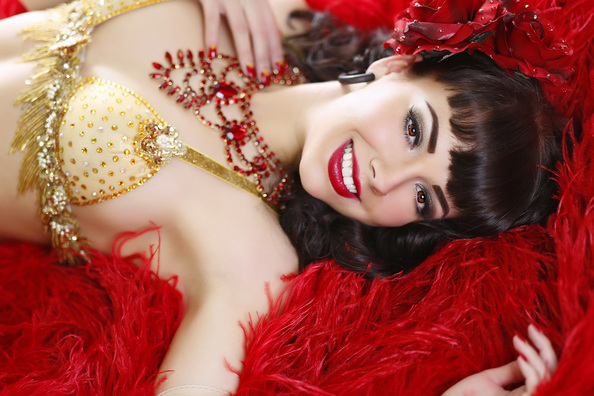 Adèle Wolf
Adèle Wolf is an internationally touring, award winning burlesque performer and producer, internationally published model, and actress, based in Oklahoma City and central Europe. She is also the protege of burlesque icon, April March. She has been performing onstage for the majority of her young life in various disciplines and has had years of formal training in dance, theatre, and voice. Several Oklahoma City publications have named her "Oklahoma City's Burlesque Queen!" Adèle was Miss Fort Worth Stomp 2011 and was awarded the Satan's Angel award for hottest body at the 2012 Dallas Burlesque Festival. She travels regularly and has performed and instructed in major cities across the world, including Paris, London, Munich, Berlin, Amsterdam, Glasgow, NYC, San Francisco, Chicago, and more!
Adèle is the producer of
Adèle Wolf's Burlesque & Variety Show
and the
Oklahoma City Burlesque Festival
. She is also the headmistress at the Oklahoma School of Burlesque and Dr.Sketchy's Anti-Art School Oklahoma City. In Fall 2013, Adèle produced a sold-out run of her show as part of the Mumford & Sons Gentlemen of the Road Stopover in Guthrie, OK. In Fall 2014, Adèle headlined at San Francisco's Hubba Hubba Revue, named one of the Top 10 Burlesque Shows Worldwide by the Travel Channel. Since April 2015, Adèle has been working regularly in Europe, where she has performed and conducted workshops in England, Scotland, Ireland, Netherlands, France, Italy, Switzerland, Germany, and Czech Republic. Most recently, Adèle debuted in Indonesia, performing at Club Med's Bali Nusa Dua location in September 2017.
Adèle Wolf Productions
specializes in providing world-class burlesque and variety entertainment. They can accommodate large corporate events to intimate gatherings with event production, hosting, ambiance performances, feather fan dancers, snake charmers, flappers, Vegas showgirls, circus performers, and even family friendly performances!
"A first class performer...one of the top performers in today's burlesque." - Burlesque Icon, April March
"Oklahoma City's burlesque queen" - Ion Oklahoma
"Regional burlesque superstar" - Oklahoma Gazette
"Some people are born for the stage" - Okc.net
www.adelewolf.com